---
Global Village - A special place in which to feel secure and to discover
---
Global Village is the first bilingual kindergarten in Berlin-Tempelhof. Our magnificent green island is located in the west sector of Mariendorf. Through our concept we offer children between ages 1 to 6 years a second home, which provides them with basic advantages their entire lives. Naturally, we cannot fully replace one´s own family. That is definitely not our goal! We perceive ourselves as assistants and partners, who are here to provide the children with a wonderful kitaperiod.
---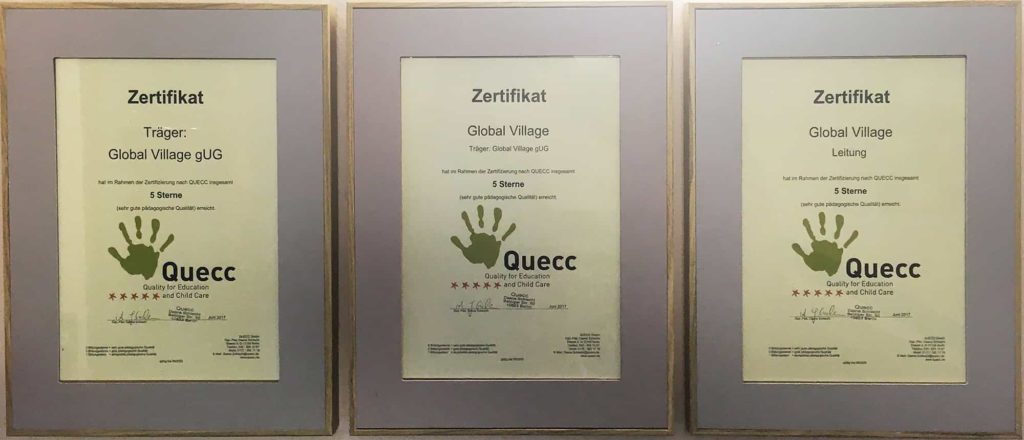 ---
Full marks in all areas in the external evaluation of the Berlin Education Program (BEP)
---
Children are marvellous! Like little experts, they appreciate the world with their own senses, and they discover their environs full of curiosity and interest. The task of Global Village is to accompany these children on their way and to encourage their individual development. We help them to uncover all the exciting things life has to offer, when we stimulate their innermost creativity and supply them with sustainable knowledge for a lifetime.
Simultaneously our goal is to promote the independent thinking of the children, with which they were born. Without unbased prejudices against another, disregarding which culture or religion they belong to, which language they speak or which skin colour they have.
The children meet in a natural environment and they all discover the world together with all its facets. In the end, they will realise that there is a whole lot to explore and that it is also beneficial to grow together. Not only can they support and strengthen each other but also accompany and learn from one another. Through our concept, the children develop a better feel for cultural differences and distinctions in the global world.
Not only do they learn another language, but they also acquire new values, traditions and rules for behaviour, in addition to esteem and respect for other cultures.
In addition, at Global Village, your children will be surrounded by:
A dedicated and loving team
A creative room layout
An extensive development in all areas
Healthy meal plans
A luxurious terrain in which to romp and play
A petting zoo
A children`s bakery
Our own sport & event room
A cozy courtyard café and lots more
We look forward to see your children!